Use your right-mouse-button
If you click on a link with the right mouse button, rather than your left button, you will get a menu of options. One of these is to open the linked page in a new window. This lets you go back to the search engine's list of found sites immediately, without needing to re-load the page. Even better you can go down the whole list, selecting possible sites of interest, each in its own page. By the time you have selected the last, the first one will be loaded ready to read. This technique works with all the major browsers.

Even easier
If you are using Internet Explorer, or Opera as your browser, hold the Shift Key down, whilst clicking the link with your left mouse button, and you will open the link in a new window without having to select this from an options menu. This does not appear to work with Netscape though.

Start your browser with a friendly page, stored on your own hard disk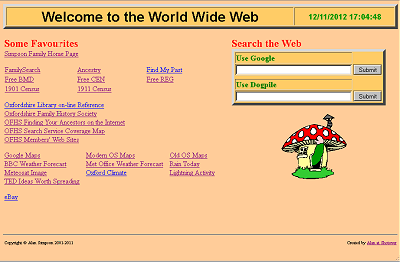 This can include data entry boxes, pointing directly to your favourite search engines. Make this your browser's "Home" page, if your ISP will let you. If not, add it to your favourites, so you can get at it easily. Putting a shortcut to this page, on your desktop, will let you start your browser with this page, even if your ISP has fixed things so your official "Home" page is at the ISP's site.
Here is an example based on the page that Alan uses.
Download it from http://www.shotover.org.uk/welcome.htm and give it a try.
Make your real favourites available off-line
When you save a site that you use really often, in your favourites, tell your browser to make it available off line. This is particularly useful for sites like "Family Search" where the initial data-entry form is quite complicated, and slow to load. Saving a local copy means you don't have to wait for it to load each time you visit the site.
Use your Links Bar
Most people leave this set to the sites which Microsoft or their ISP put there. Much better to get rid of these and put your own, frequently used sites there. Then they are always just a single click away.